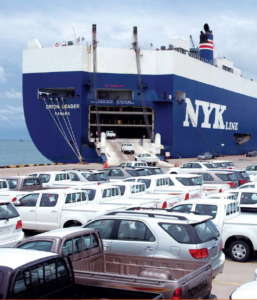 Shipping Costa Rica is an experienced and reliable auto shipper with many years of experience safely shipping cars and other vehicles and motorcycles overseas.  We are able to provide door to door  shipping service inbound or outbound USA or Canada for your car, tractor, motorcycle or other vehicle or boat.
We will arrange all of the permits, land transportation, and special equipment you'll need within our vast network of companies who provide any securing, lifting, or bracing service required in ports throughout the USA, Canada, and Central America.
Would You Like Shipping Costa Rica to Find the Least Expensive Way To Ship Your Vehicle to Costa Rica? Get your Free Costa Rica Shipping E-Book and Vehicle Shipping Quote.
Two different Ways to Ship A Vehicle to Costa Rica, Roll On/Roll Off (RO/RO) and Inside a Shipping Container.
Roll On/Roll Off or RO/RO  – Your vehicle is driven onto an ocean cargo ship and safely secured with special vehicle shipping equipment. Roll On/Roll Off services are extremely fast (normally only 5 days at sea), very safe, and quite efficient. RO/RO is frequently used by many of the major car dealers when doing their vehicle shipping. We also have several ports and companies that we work with that will allow you to pack your vehicle full of household items for a minimal charge.
Inside A Shipping Container – Your vehicle is loaded onto an ocean cargo ship in a standard, flat bed, or open top container. This shipping method is popular for individuals and/or families who are relocating to Costa Rica because additional personal items can be packed inside the container.
Upon arrival in Costa Rica we will provide all services to make your vehicle road legal to drive in the country.  This includes either nationalizing the vehicle or taking it on a tourist permit.
To find out more about our nationalizing service for vehicles click here.
Additional Helpful Information for Vehicle Shipping